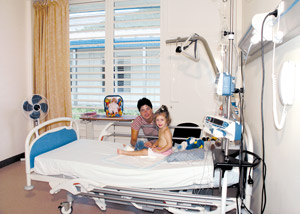 Visit and Escort Hours
Visits are authorized every day from 12:00 pm to 1:30 pm and from 4:00 pm to 7:00 pm (for exceptional reasons, these hours can be changed by the physician's approval).
Children less than 12 years old are not allowed to visit at the hospital.
We are asking to limit the number of visitors to 2 per patient and per room inside the room in order to observe the rest and intimacy requirements necessary for in-patients.
You are requested to respect the work of nursing aides as a measure of hygiene and security.
Physician's visits
Medical visits take place every morning. There is also a counter-visit every afternoon.
For families who would like to speak to the physician, it is recommended to make an appointment with the nursing staff.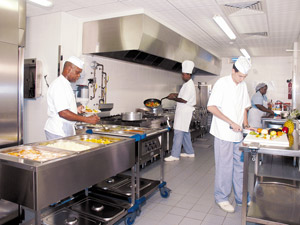 Hotel accommodation
At your arrival, you are given a bed either in a double bedroom or in a single bedroom. However, for service organization purposes, you can be asked to change room or service.
Meals are prepared with great care by a competent team. They are varied and balanced depending on your health condition. It is recommended not to take food to patients. Alcoholic beverages are strictly forbidden within the establishment.
Hours are as follows: breakfast at 8:00 am, lunch at 12:00 pm and dinner at 6:00 pm.
Telephone
There is a telephone connection in each room. Patients can, therefore, be reached by outside callers.
In agreement with the law, mobile telephones must be switched off inside the hospital. Cellular phones can cause disturbances with medical devices.
Television
In each room there is a television set. A local channel is available for your viewing.
There is also a hospital channel which will keep you informed of hospital events.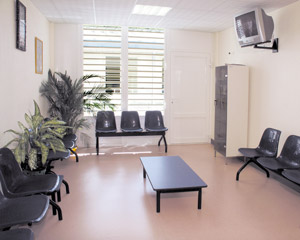 Relaxation area
In each department there is a waiting-room with magazines and television accessible to all: in patients and friends.
In the hospital entrance hall and in the emergency waiting-room, there are snack and beverage distributors.
No tobacco Hospital
The use of tobacco is forbidden inside the Medical Center, and especially in the nursing services.
We are asking you to strictly comply with this prohibition.
Religious faith
If patients and families wish, they can call in a representative of the faith of their choice.
It is necessary to contact the executive of the service in advance.
Personal belongings
It is required that you bring your toilet case (washrag, towel, shampoo, toothbrush, diapers, razors, sanitary napkins…)
The hospital only maintains hospital linen.
Money and valuable objects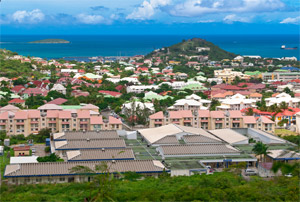 When admitted you will be invited to hand over for deposit money and valuable objects in your possession against receipt. The money or valuable objects will be deposited in the safe of the Medical Center
Deposits and withdrawals can be made from Monday to Friday at the opening hours of the admission office from 8:00 am to 5:00 pm.
For programmed hospitalizations, we are expressly asking you to come without valuable objects or money.
The hospital cannot be held responsible for the loss, the damage or disappearance of objects belonging to patients or visitors.