Whether you come for a consultation or to be hospitalized…
Administrative formalities
They are compulsory for French citizens and foreigners.

In all cases, you must go to:
The Admitting Office: from Monday to Friday from 8 am to 5 pm
The Emergency Admission Office: on the other days and at night

With the following documents:
An identification card
Your address
Your insurance card or your Vitale card and your mutual
Payment

In all cases you must pay for the external procedures or stays that is billed to you
Either in full if you have no insurance
Or partially if you have a mutual or a private insurance.
Support system

If you encounter difficulties, do not hesitate to ask for help at the Social Service for:
The payment or the institution taking charge of your stay
Solving your personal difficulties in connection with your hospitalization
Organizing your discharge or your transfer to another establishment.
Health is priceless but it has a cost
Hospital Cost
It is composed of the hospitalization (stay and medical procedures) and the flat fee per day.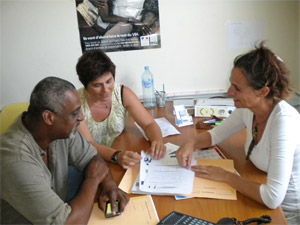 The daily price* is
Surgery / Gynecology

1 373,70 €

Maternity

1 111,40 €

Medicine/Pediatrics / U.S.S.H./C.C./Neonatology

1 111,40 €

Day Hospital

1 237,30 €

Psychiatry

1 237,30 €

Use of SMUR (½ hour)

453,70 €

The flat fee per day* is
Surgery

18,00 €

Maternity/Gynecology

18,00 €

Medicine/ Pediatrics/ Day Hospital

18,00 €

Psychiatry

13,50 €
*Rates applicable from 01/07/2011 (subject to change depending on tariff orders)