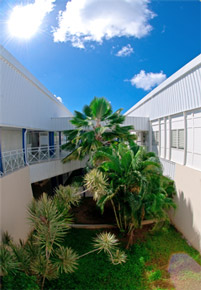 You have just entered the Louis Constant Fleming Medical Center of Saint Martin.
We know that coming to the Medical Center is often a difficult task as you are compelled to do so because of your health condition. We would like to inform you that we will do our utmost best to make your stay at the Medical Center as pleasant as possible.
The staff of the Medical Center will hospitably attend to your needs with great concern and competence, whether you deal with our physicians, our medical and social staff, or those working in other areas of activity that you do not meet, such as the administrative staff, the cooks, the laundry and technical personnel, and the Information Technology staff.
Everyone works hand in hand towards the recovery of your health as we take complete charge of you and provide you with the best quality service on a permanent basis
This website is for you.
Teams of professionals and technical resources at your service...
Take the time to read it. It contains all the information that you need. If you still have more questions, feel free to ask them to us.
The satisfaction questionnaire, attached to the present handbook, will enlighten your ideas and suggestions, and by filling it, you will help us to advance in our mission and desire to constantly improve our service to patients.
We wish you a good stay.
The Director